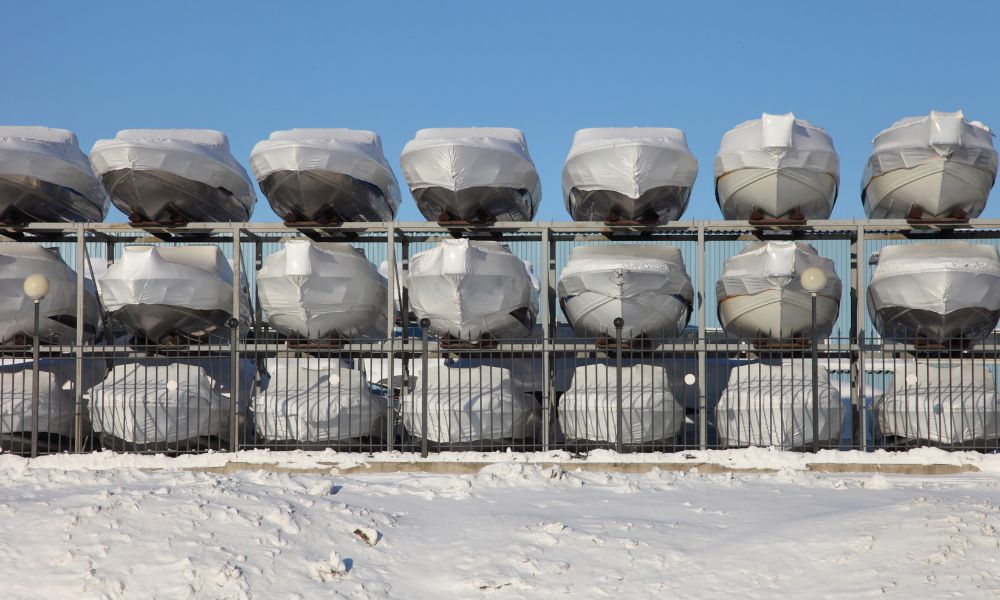 No one wants to see boating season end. However, when it does, you've got to say goodbye and get your faithful vessel to a safe place until spring comes around again. Winter storage is essential for most boats since the cold weather, snow, and ice can damage their systems. If you have experience with boat storage or are new to it, you'll find the following information useful for winterizing your boat to prepare it for storage.
Why Storage Matters
Leaving your boat to sit anywhere for an extended period puts it at risk of damage. Boats need attention in and out of the water, and if they are left alone for too long, they can break down. This is especially true during the winter. Freezing temperatures, ice, and snow can wreak havoc on a boat because it is designed for warmer conditions. Here are just a few things that winter weather can do to a watercraft out of storage:
Cracked components
Buildup in the fuel tank
Rust
Discoloring of the hull and interior
Damage to the engine
Your boat is an investment, and if you want it to last, make winter storage a priority.
Where To Store Your Boat
You have two options for boat storage: indoor and outdoor spaces. Let's look at the pros and cons of both.
Indoor Boat Storage
Indoor storage is great for your boat! The structure or storage unit will completely shield your boat from the freezing temperatures and other winter elements. The downside of indoor storage is that it is more expensive than outdoor options, and you'll have to haul your boat in and out of the storage facility.
Outdoor Boat Storage
You'll save money when you store your boat outside. If you already rent or own a boat slip where your boat sits out of the water, you can store your vessel there until spring. However, if you live in an area that will likely get snow and ice during the winter, outdoor storage isn't wise. The cold is tough on your boat, and you may see some damage after winter passes.
How To Prepare Your Boat
Once you decide where to store your boat for the winter, it's time to prepare it for the long months ahead. We've created a list of eight important steps to follow. Let's look at each one.
Clean Inside and Out
The first thing to do is to clean the boat. You don't want your first day back out on the water to be one of cleaning. Here's a checklist to get the job done right:
Store all life vests, floaties, and boat toys.
Throw away trash.
Vacuum and sweep the floor.
Polish and treat leather seats.
Shine the windshield and steering wheel.
Wipe down hardware and trim.
Wash and wax the exterior.
While you clean, look for cracks, leaks, and blisters along the hull. Then, repair them before storing the boat for the winter.
Change the Oil
Acid may corrode your boat's motor over the winter; however, you can do a couple of things to prevent it.
First, spray fogging oil into the air intake while the engine is running. Fogging oil prevents rust and corrosion when a motor is inactive for a long time. Second, turn off the engine, and change the oil and oil filters while it is still warm.
The bonus of the oil change is having fresh oil when winter is over! Plus, it's a great way to get in the habit of changing the motor oil.
Tend to the Battery
If you neglect the battery until the spring, it will likely be dead. Instead, do these three things:
Disconnect the battery.
Top it off with distilled water.
Every so often, go into storage and run the battery to keep it alive for the upcoming boating season.
Flush the Cooling System
Flush the cooling system before putting your watercraft in winter storage to rid the system of marine debris. If you'll store your boat at an outdoor storage center, you must also run antifreeze through the cooling system.
Check the Fuel System
You should also winterize your boat's fuel system. Thankfully, it's an easy task! Top off the fuel tank to prevent condensation from freezing. Additionally, change the fuel filter and add a fuel stabilizer for more protection over the winter.
Grease Moving Parts
As the boat sits still in the winter, its moving parts can become stiff and corrode. This may cause them to crack next time you operate your boat. The best way to prevent this is to lubricate all moving parts, which includes the following:
Propellor shaft
Cutlass bearing
Rudder post
Outdrive
Steering
Bushings
Cables and pulleys
Shackles
Cleats
Springs
Turnbuckles
As you lubricate these parts, check for corrosion. Now is the time to replace anything before storing your boat.
One Final Check
Once you complete all the steps to prepare your boat for winter storage, you should perform one final check to ensure it's ready. Fix the following issues before covering your watercraft:
Dings and scratches
Leaks
Cracks
Corrosion and rust
Water toys, towels, and trash onboard
Cover Your Boat
The final step before storing your boat is to cover it! Covers protect your boat, whether in an indoor storage facility or an outdoor one. Dust, animals, and other things can get in your boat if you don't cover it, even if it's in a storage facility. You have a few options for boat covers:
Winter boat storage shrink-wrap
Canvas fabric
Composite fabric
You can also add marine support poles to prop up the cover and allow air to circulate.
As you prepare your boat for winter storage, now is a great time to consider the additions your boat needs in the spring. Give yourself and your passengers a more comfortable ride with hydraulic boat pedestals by Smooth Moves for the ultimate seat suspension. They are perfect for most fishing and pontoon boats with pedestal-style seats. Contact Smooth Moves with any questions, and use this winter storage checklist to prepare for the best boating season next year!