The Smooth Moves
Professional Anglers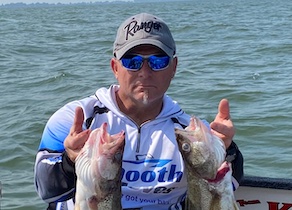 Host of 'Lindner's Angling Edge' and 'Fishing Edge'
AL LINDNER
Outdoor writer, author, fish educator and host of 'Fishing 411'
MARK ROMANACK
Host of 'Fishful Thinking'
CHARLIE WRAY
Co-host 'Fishing 411'
JAKE ROMANACK
"Smooth Moves keeps both my back and my clients in way better shape then they would be without them."
ROSS ROBERTSON
Capt. Ross Robertson has made his complete living as a full time professional angler for more than 20 years. Through the years he has worn many hats including time as a fishing guide, boat salesman, TV host, outdoor writer, product designer, tournament fisherman, speaker, radio host and podcaster to name a few.
Favorite Fish: Walleye
Favorite Location to Fish: Lake Erie
Boat Brand: Ranger
Ross started fishing when he was six and his piece of advice would be: "Do your own thing and don't worry about everyone else."
"I fish and guide everyday on the big waters of the Great Lakes and my Smooth Move seats help to provide me the ride I need to make sure my clients and I are ready to fish when we get to our fishing spot. No matter how rough the water gets Smooth Move seats always make the ride seem smooth."
SPENCER BERMAN
Owner and operator of Spencer's Angling Adventures
Under the umbrella of Spencer's Angling Adventures, Spencer Berman fishes tournaments, does sponsorship promotions, fishing shows, seminars, and TV/video appearances. In addition he runs a very full guide schedule. As a young boy, Spencer got started fishing on local ponds. Since he was a complete fishing addict, it seemed like he was always carrying his bucket and rod around to every pond and creek he could find. When he was ten he discovered the Junior B.A.S.S. program and began competing in local junior tournaments. He was district champion all four years he competed. As he got older, more fishing opportunities opened up to him, and he began to stray from bass fishing to chase his true passion, Muskies. At sixteen, he started fishing on the Wisconsin Musky Trail and became the youngest boat captain to place in a tournament in trail history. Shortly after that he began to fish on the Professional Musky Tournament Trail and finished eleventh in his first event at age eighteen. He was the youngest boat captain to ever place in the money. That year his partner and he ended up placing in two of the four qualifying events and finished in the top twenty-five in the world. He has also fished in a number of Indiana tournaments including the Indiana Classic and the Webster Lake Cash Tournament, in which he had several top finishes and victories. Spencer's tournament success hit its pinnacle in 2013 on the Professional Musky Tournament Trail when his partner and he won the prestigious Team of the Year award. They set a new record with three top five finishes in the four tournament events including a second place finish in the World Championship on Lake St. Clair. After taking a couple years off the tournament trail to focus on guiding, he rejoined the Professional Musky Tournament Trail in 2018. In the 3rd qualifier his partner and he set two new P.M.T.T. records for most fish in an event, 8, and for most points ever in an event. They won the event and from that qualified to fish the world championship that October. Here they broke their own record catching an amazing 10 fish in the two-day event and became the first team ever to win back to back tournaments, including a world championship. in the 20 year history of the trail. In addition to fishing tournaments, Spencer does a number of media appearances each year including TV shows such as Catch Ya in the Bluegrass, Badfish Outdoors, Top Predator Outdoors, Marsh Outdoors, Keyes Outdoors and The Musky Hunter. He is also a regular seminar speaker performing more than twenty seminars a year for various musky clubs and at fishing shows and expos. Lastly, he is a very active contributing writer for several high profile magazines including, Musky Hunter, Keyes Outdoors, Esox Hunt, Muskies Inc. and In-Fisherman. As for guiding, he starts running trips on the Detroit River for walleye in mid to late March as soon as the ice goes off the river. After that he transitions into smallmouth bass in late April to the end of May and then from June on he targets strictly muskies on Lake St. Clair. Blessed to have truly amazing water, his boat always sees lots of 10 to 13 pound walleye, 5-6 pound smallmouth bass and a ton of 50 plus inch muskies. Traditionally his boat catches 600 plus muskies per year with 50 or more over 50 inches and a handful of those fish falling in the 40 to 50 pound range. Although Spencer's current guide schedule involves only the Detroit River and Lake St. Clair, he also successfully utilized his skills in Minnesota, Wisconsin and Indiana. To sum it up, he loves fishing and the outdoors, and he is passionate about helping people catch fish. He hopes to see you on the water!
Favorite Fish: Muskie
Favorite Location: Lake St Clair & Detroit River
Boat Brand: Ranger 622
Spencer enjoys fishing for Muskies because "there is no bigger rush in fishing than putting in the work and landing a giant!" His advice to anglers is "listen to your guide!"
"As a professional guide, I am on the water several days a week. My back and body took a beating for years before I switched to my Smooth Moves seats. Now I welcome whatever the water brings and feel so much better after each trip. I also enjoy how I can fine tune each seat to my guest and their comfort level. It's been the best upgrade I've done to my boat!"
DAVE WYNER
Catfishing guide
Dave Wyner, will be your catfishing guide. As an avid fisherman for 30 years he takes great pride in helping others learn how to target catfish through on-the-water experiences, teaching seminars, and online coaching. He runs a professional catfishing guide service named Chasin' Cats Guide Service which is focused on teaching others the details of trolling and drifting for catfish. Dave has been fishing since the age of five and enjoys fishing for channel catfish in the Midwest because according to Dave, "it's harder to find a fish that fights as good and watching that rod load up never gets old!"
Favorite Fish: Channel Catfish
Favorite Location: Saylorville Lake in Central Iowa
Boat Brand: Tracker
Dave's advise to fellow anglers is "Always be learning. Study the fish biology and lakes. Put those together and you'll be successful."
"The finite adjustment of the Air suspension gives you the ability to take the bite out of the waves."
BRETT KING
Professional Walleye Angler
Brett has had a great career in the fishing world and has been fortunate to compete in every Professional level circuit that has come along in the last 20 plus years. He is currently competing in the new Head 2 Head Professional Walleye Series and also a few NWT events when it works out. He likes to fish walleyes as he is driven by their stubborn attitudes most days and just wants to catch them all. "Without great products like Smooth Moves I am very certain my longevity physically wise would have had a whole different story by now. These suspension seats have allowed me to compete and maintain the health of my neck and back years beyond what I would have expected."
Favorite Fish: Walleye
Favorite Location to Fish: Mississippi River
Boat Brand: Yar-craft
Brett started fishing when he was around six and his advice to fishermen is "Keep swinging and don't over think them. They have a brain the size of a pea!"
"Smooth Moves obviously improves the ride in bumpy weather. Reducing body fatigue is huge."
ROBERT BLOSSER
Professional walleye angler from Wisconsin
Professional Walleye angler Robert Blosser hails from Poynette, WI and at at young age was introduced to the outdoors and fishing instantly took priority. Not only is Robert one of the most consistent anglers on tour claiming 3 "Angler of the Year" titles, multiple wins and plenty top 10's at the highest level of walleye tournaments. He also is dedicated to the industry as a whole. Robert has been President and has served on the Board of Directors for the National Professional Anglers Association (NPAA) along with the Future Anglers Foundation (FAF).
Favorite Fish: Walleye
Favorite Location to Fish: Green Bay, WI
Boat Brand: Skeeter
Robert started fishing from as early as he can remember and his fishing advice is "Trust your gut."
"Smooth Moves are a tremendous ride and quality. "
TED TAKASAKI
Fishing Hall of Fame Angler
A Fishing Hall of Fame Legendary Angler, Ted is one of the top competitors on the National Walleye Tour. Ted won the prestigious Professional Walleye Trail (PWT) Classic Championship in 1998 and the 1995 PWT Top Gun Angler Award. In 2002, he smashed the all time, one day PWT tournament record, which still stands today, with limit of 5 walleyes that weighed 53.2 pounds! From 1999 to 2008, Ted was the President of Lindy Fishing Tackle, one of the nation's largest freshwater fishing tackle manufacturers. During that time, the company doubled revenue and quadrupled profit under his leadership. He was also a part of the Master's Walleye Circuit (MWC) Team of the Year in 1991. His credentials include qualifying for the MWC Championship 5 times, the PWT Classic 11 times, and have made it to FLW Walleye Tour Classic 7 times, with several top tens to his credit. In addition, Ted was a part of the team that won the coveted 1993 Mercury National Tournament held on Lake Winnebago, Wisconsin. He has been featured in many national outdoor magazines, has conducted hundreds of walleye seminars across the Midwest, hosted numerous TV episodes.
Favorite Fish: Walleye
Favorite Location: Fort Peck, Montana
Boat Brand: Lund Pro-V
Ted enjoys fishing walleye because they are very tentative and a difficult fish to catch on a daily basis. His advice to anglers "The fish are always biting."
"Smooth moves provides a smooth ride, is easy to use, and is priced right for the consumers compared to other brands."
SETH LUBBERS
Avid fisherman from South Dakota
Seth lives in South Dakota where he was born and raised. He started fishing when he was able to first hold a rod with his Dad and Grandpa. You'll often find him on the Missouri River or in the Glacier Lake Region slamming walleye with his friends and family. He enjoys fishing walleye because he loves the challenge of constantly trying to figure them out. He fishes local, regional, and national tournaments where he enjoys competing against other anglers.
Favorite Fish: Walleye
Favorite Location: Lake Francis Case on the Missouri River
Boat Brand: Lund
Seth started fishing when he was four and his advice to his fellow anglers is ""Don't sit in the same spot for too long!"
Owner of Blue Dolphin Walleye Charters
GARY ZART
Owner of Hookin' Eyez Fishing Promotions in Wisconsin
PATRICK MERTENS
Professional walleye angler from Wisconsin
BUCK GEHM
Buckeye Outdoors Fishing Adventures
MARK SPENCER
Professional Fishing Guide
RICK LAPOINT
Professional walleye angler, educator, and outdoor writer from Minnesota
BRUCE (DOC) SAMSON