The Smooth Moves
Professional Anglers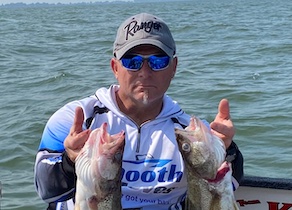 Host of 'Lindner's Angling Edge' and 'Fishing Edge'
AL LINDNER
Outdoor writer, author, fish educator and host of 'Fishing 411'
MARK ROMANACK
Host of 'Fishful Thinking'
CHARLIE WRAY
Co-host 'Fishing 411'
JAKE ROMANACK
Owner of Hookin' Eyez Fishing Promotions in Wisconsin
PATRICK MERTENS
"Smooth Moves keeps both my back and my clients in way better shape then they would be without them."
ROSS ROBERTSON
Capt. Ross Robertson has made his complete living as a full time professional angler for more than 20 years. Through the years he has worn many hats including time as a fishing guide, boat salesman, TV host, outdoor writer, product designer, tournament fisherman, speaker, radio host and podcaster to name a few.
Favorite Fish: Walleye
Favorite Location to Fish: Lake Erie
Boat Brand: Ranger
Ross started fishing when he was six and his piece of advice would be: "Do your own thing and don't worry about everyone else."
Professional Fishing Guide
RICK LAPOINT
"The finite adjustment of the Air suspension gives you the ability to take the bite out of the waves."
BRETT KING
Professional Walleye Angler
Brett has had a great career in the fishing world and has been fortunate to compete in every Professional level circuit that has come along in the last 20 plus years. He is currently competing in the new Head 2 Head Professional Walleye Series and also a few NWT events when it works out. He likes to fish walleyes as he is driven by their stubborn attitudes most days and just wants to catch them all. "Without great products like Smooth Moves I am very certain my longevity physically wise would have had a whole different story by now. These suspension seats have allowed me to compete and maintain the health of my neck and back years beyond what I would have expected."
Favorite Fish: Walleye
Favorite Location to Fish: Mississippi River
Boat Brand: Yar-craft
Brett started fishing when he was around six and his advice to fishermen is "Keep swinging and don't over think them. They have a brain the size of a pea!"
Owner of Blue Dolphin Walleye Charters
GARY ZART
"Smooth Moves obviously improves the ride in bumpy weather. Reducing body fatigue is huge."
ROBERT BLOSSER
Professional walleye angler from Wisconsin
Professional Walleye angler Robert Blosser hails from Poynette, WI and at at young age was introduced to the outdoors and fishing instantly took priority. Not only is Robert one of the most consistent anglers on tour claiming 3 "Angler of the Year" titles, multiple wins and plenty top 10's at the highest level of walleye tournaments. He also is dedicated to the industry as a whole. Robert has been President and has served on the Board of Directors for the National Professional Anglers Association (NPAA) along with the Future Anglers Foundation (FAF).
Favorite Fish: Walleye
Favorite Location to Fish: Green Bay, WI
Boat Brand: Skeeter
Robert started fishing from as early as he can remember and his fishing advice is "Trust your gut."
Professional walleye angler from Wisconsin
BUCK GEHM
Professional walleye angler, educator, and outdoor writer from Minnesota
BRUCE (DOC) SAMSON
Trophy Muskie, Walleye, and Small Mouth Bass Fishing Guide
SPENCER BERMAN
Chasin' Cats guide service
DAVE WYNER
Buckeye Outdoors Fishing Adventures
MARK SPENCER